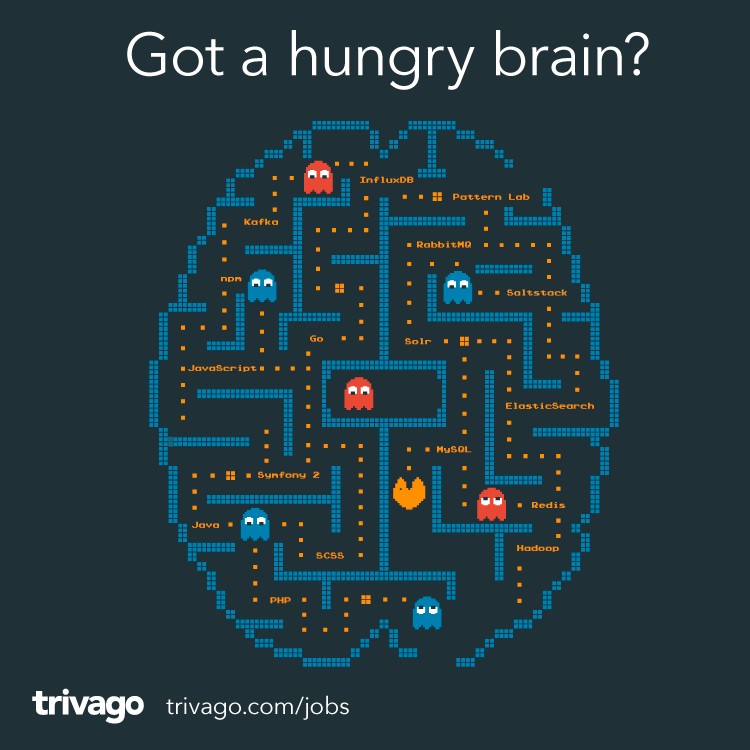 trivago is a hotel search which empowers more than 120 million travelers every month in their search for the ideal hotel. By using trivago, you can sift through over 900,000 hotel deals, from 250+ booking sites and hotel chains at once.
Who works at trivago?
trivago is home to over 200 IT specialists from all corners of the globe, who wake up every day to build a hotel search that is straight forward, simple-to-use and unbiased. With around 3 billion requests per month they operate on a large-scale, complex, and rapidly evolving IT landscape.
Engineering @ trivago:
Scalability, speed and efficiency are three key factors that influence our Software Engineering at trivago. Each engineer has their own area of focus which can involve developing high traffic web applications, setting up high performing database queries or writing and optimizing code for various browsers and connection speeds. Our engineers love the challenges that their work presents to them on a daily basis and thrive in our agile environment where they can share their knowledge and work together to solve any problems that arise.
Data Center Operations @ trivago:
Our Data Center Operations team provide the infrastructure that keeps trivago operating. From monitoring to make sure all services are up and running to taking responsibility for the security of our systems and ensuring that our network is in the best possible shape, they create smart and reliable solutions for large-scale problems.
Office Infrastructure Operations @ trivago:
Our Office Infrastructure Operations team implement and maintain the systems, infrastructure and tools that everyone working at trivago uses on a daily basis. The team of experts discover what requirements our staff have and provide them with IT solutions. Whether it's maximizing the performance of our network, giving us the communication tools we need to connect with one another or ensuring that our audio-visual equipment is in perfect shape and tailored to our needs, OIO make sure that we're operating efficiently.
IT Support @ trivago:
Our IT Support team are the approachable first point of contact for everyone working at trivago whenever they have IT-related issues. From assisting with computer installation and set-up to helping out when we're having computer issues, they are the ones who keep us all up and running so that we are able to get on with our work. As experts in their fields there isn't an issue they haven't troubleshooted before or a problem that cannot be solved.
If you are interested in what we do, then take a look at our tech blog and our careers page for our vacancies.